Should Your Loved One Leave a Long-Term Care Facility?
As the COVID-19 pandemic continues, families across the nation are grappling with the question of whether or not to bring their loved ones home from long-term care facilities, like assisted living and skilled nursing facilities.
Concerns about the spread of the potentially deadly respiratory disease are causing families to shelter their parents and loved ones in their homes.
While the motivation is driven by health and wellness concerns, many factors can alter health outcomes—ranging from insufficient care to improved mental and physical health.
Some elder loved ones treasure their independence and privacy, and the senior living community has become their home, so extracting them may be more depressing than uplifting. While for others, the increased time with family and grandchildren can be therapeutic and lead to tremendous strides in their overall health. An open conversation with all parties is important for trust and well-being.
For loved ones who are eager to switch to a family home, the key to a successful move is a well-thought-out decision—albeit difficult—and planning. In this article, we'll take you through the decision process. In the coming article, we'll help you get ready for the big move.
What should you consider before making a decision?
For every family member, the considerations and priorities will differ, but across the board, the first consideration is whether the move is feasible.
Before you go down the rabbit hole of how you'll make the arrangements, find out if it's feasible on these four major levels:
Medical Needs
Management Needs
Safety and Independent Living Needs
Financial Needs
Medical Needs
Your Mom has the right to the best medical care and attention available. When the decision was first made to go to a skilled nursing facility, it was likely because the medical needs were beyond what the family could support. Years later, circumstances on both sides may have changed.
After loved ones are admitted into a skilled nursing facility, many families lose track of their loved one's specific needs, and it's time for a Needs Assessment.
If you're comfortable with the medical lingo and treatment details, you can do this on your own. Alternatively, you can hire a private nurse to help assess all your loved one's needs.
1. What are their current healthcare needs?
Reach out to the Director of Nursing or unit Charge Nurse and get a list of all necessary medical care, including their current Care Plan.
We recommend you record all times of treatment and medication at the facility in a Care Calendar. We'll go into more detail on this in a moment.
2. Can their needs be taken care of at home?
Private care nurses can cover most needs at home – but be sure to know everything that's required. The following are the most common medical needs that can be easily performed in your home:
G-Tube and tube feedings
Trach/vent care
Nebulizers
IV Infusions
Insulin management
Wound dressings
ADLs / general assistance
Mediset and medication management
All of the above healthcare needs can easily be taken care of at home by a private nurse.
The single most common medical need (beyond staff) that sways families to opt for skilled nursing facilities is medical equipment, particularly those that require 24/7 electric power, like ventilators.
Securing backup power at home isn't practical for everyone. In some regions in California, the risk is too great, particularly during the fire season. Continuing in a skilled nursing facility or assisted living communities may be the best option in these cases.
Management Needs
Your loved one will need someone to understand and manage all their needs. Are you and your family prepared to take on this additional responsibility?
You will need to research and understand the (multiple) medical conditions and treatments.
You will need time and headspace for the many new tasks that will arise.
You will need an emotional support structure for every family member involved in the care.
It's easy for our hearts to blindly answer yes to all the questions, then discover too late that we're drowning in the additional responsibilities.
Before answering that question, complete the following care calendar. List every medical and personal hygiene need, time, and who will perform it.
For who will perform the task, Responsible, at this point, simply jot down whether a nurse, caregiver, or family member will be responsible.
This document is intended to simply determine the types of care needed and the hiring needs you should plan for.
Here's a sample schedule for you or a private nurse to complete with the help of your loved one and their current care team.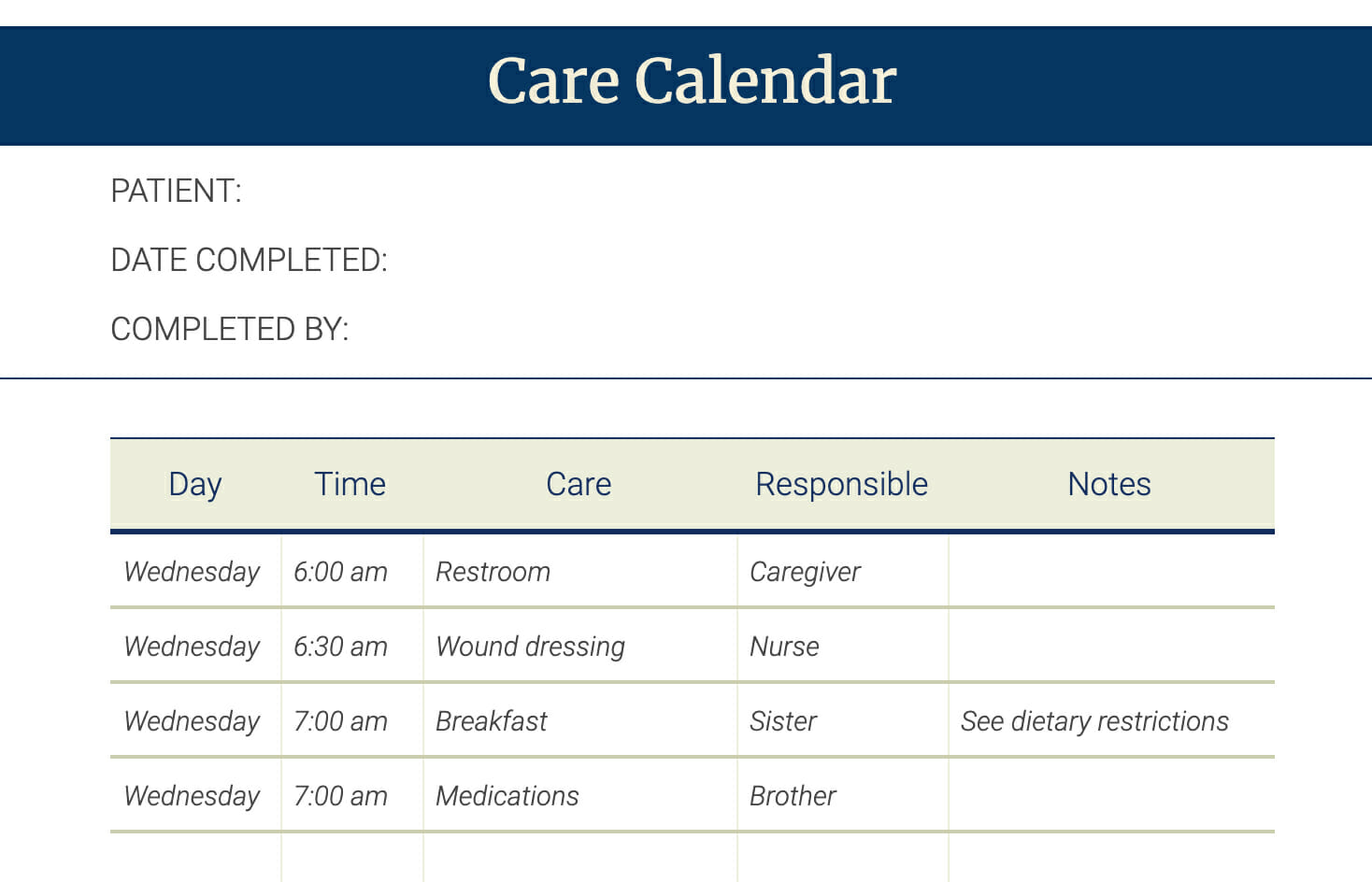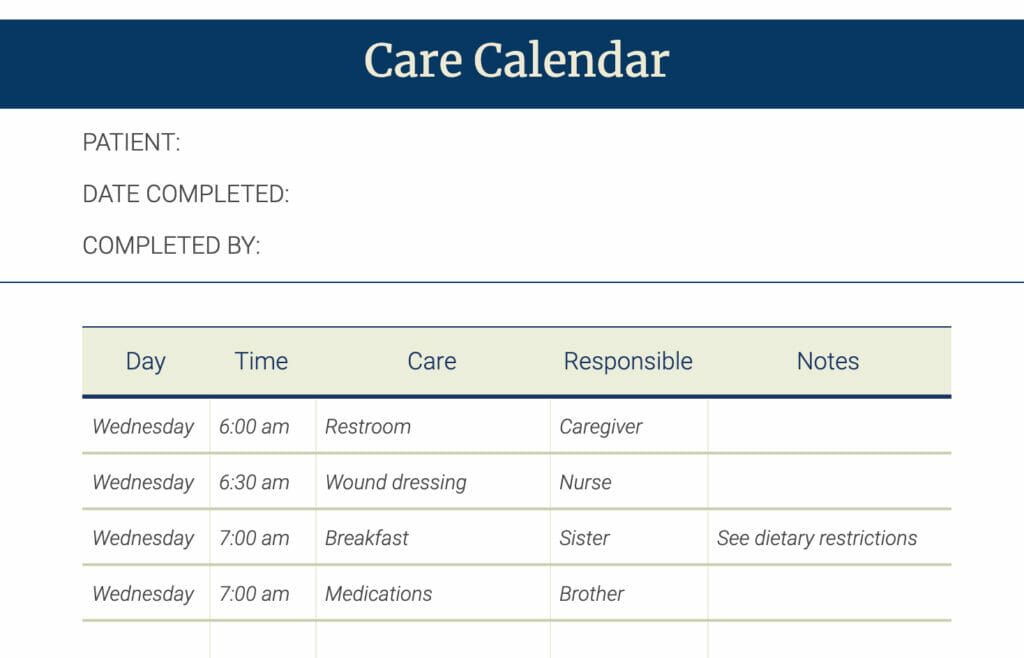 Click on the link to open the template, and make a personal copy or print the worksheet.
Care Calendar (Google Doc)
Care Planner (Google Sheet)
It's important to capture every form of support your loved one may need. The Care Calendar will inform your hiring needs and your personal capacity to provide support, care, and attention for your loved one.
Safety and Independent Living Needs
You'll be surprised by the number of changes and additions that can be made in your home to make Dad feel independent and safe.
You will need to create a personalized list of safety accommodations for logistical and financial planning.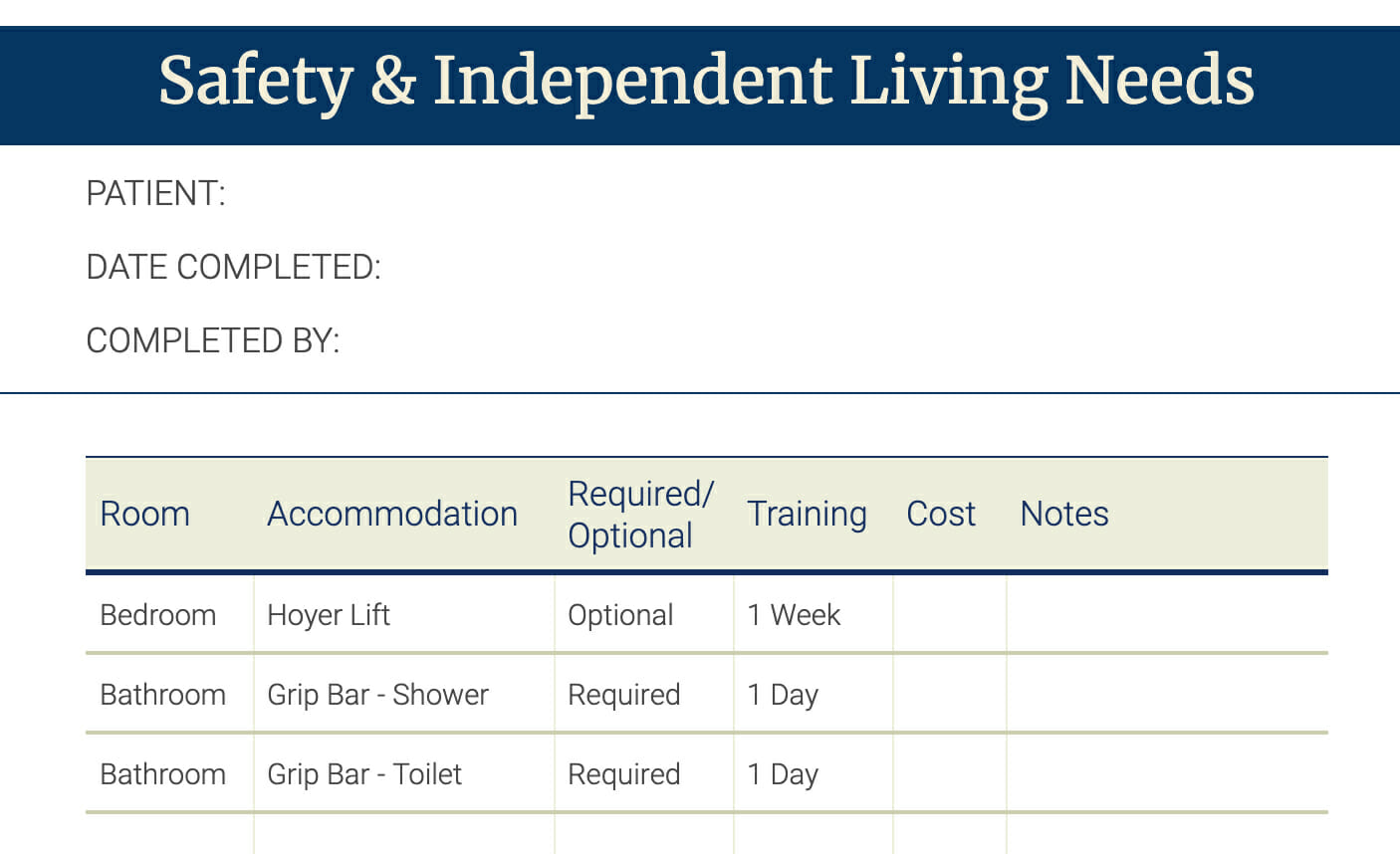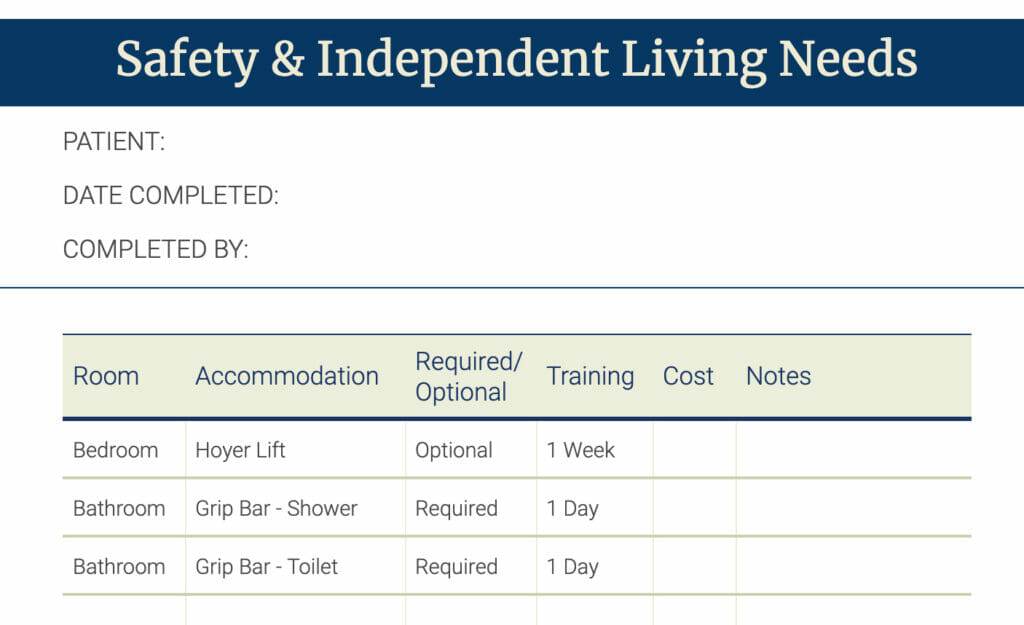 Click on the link to open the template and make a personal copy or print the worksheet.
Safety & Independent Living Needs (Google Doc)
Care Planner (Google Sheet)
Many adjustments can be made in your home to improve safety measures while increasing independent living accommodations. You can start by listing the accommodations provided in the long-term care facility, for which the charge nurse or the private nurse can assist you. For a detailed assessment, consult an occupational therapist.
Insurance and Costs
One of the underlying principles in the development of living communities is affordability: shared expensive medical equipment and multiple clients per nursing staff minimize the average cost per person.
Depending on the medical needs and insurance coverage, home care can save money or be more costly.
Insurance
Research your loved one's medical insurance coverage before making the leap.
If you haven't already, also look into long-term care insurance, which has proven helpful for many families.
Costs
Anticipate total setup and running costs for the many medical and logistical needs:
Medical equipment
Safety accommodations
Nursing staff
Hired help